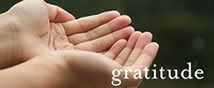 November is gratitude month in AA. For those of you who know me you know I am in this program. For those of you who don't know me now you know. Haha. I am proud of this and I do not hide my anonymity. I have been sober for 9 years, and being sober is the best thing I ever did. I'm not going to go on and on about sobriety, although this is what I'm most grateful for. Without my sobriety I am lost. I am floundering and I am a mental mess. With sobriety I have clarity, direction and purpose. Most of all I have gratitude.
I just want you to take a minute right now and mentally list the things you are grateful for..........when you are finished I will list mine......
I am going to freely brainstorm them now......
life, family, friends, AA, health, higher power, sunshine, clouds, air, oceans and warm water, gentle breezes, laughter, smiles, tears. Colors and light, art, paper, paint, and books. Cupcakes, ice cream, sunflower seeds and fizzy juice, Bass Lake, St. Croix and memories. My husband who I have grown up with and continue to grow old with and my two astonishing children Alex and Abby. I am humbled by their goodness and always impressed with their uniqueness. My shop Hip Chick and how it has enabled me to grow as an artist and business woman. It teaches me what I want and where I want to go on a daily basis. I have gratitude for my creative journey and it's never ending expansion. I am grateful for my family of origin and tomorrow being with them all for Thanksgiving, all except my brother who I am grateful is now joining me in sobriety. I am grateful for all my friends who love and support me, encourage and inspire me. I am grateful I live in America, I have food, water, shelter, good health and money to live comfortably. I am grateful for so much more but now I must stop as I should be going to the shop.....I just wanted to get a quick post up before I left.
I would LOVE to hear what YOU"RE grateful for, I love feedback and you are just as important to me as I am to you. I am grateful for YOU too.
Happy Thanksgiving from Hip Chick Carrie